ATW Testimonials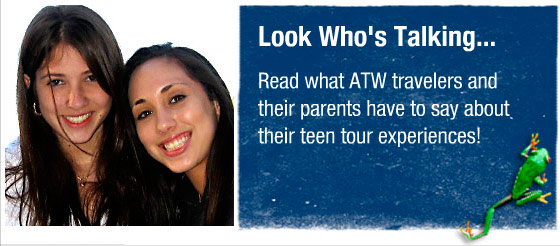 This summer was the best summer of my life! I saw many new places and did so many new things that I normally wouldn't try. ATW is the shidizzle!
Nicolette A. - Greensboro, North Carolina


ATW Teen Tour: $7000
Gift shops: $350
Jokes and memories with your new friends: Priceless
For everything else, there's Facebook
Peter J. - Kew Gardens, New York

Why in the world do we travel so much? It's fun, it's entertaining, and it extends your view of the world. One trip is all it takes, and this was one of the most memorable trips of my life.
Jeremy H. - Birmingham, Alabama

Our daughter, Laura, had the most amazing trip. She only called us to tell us where she was and what she was experiencing. Each phone call was only excitement and amazement of each day's journey. Her Director, counselors and other teen tour campers were only the "Best People" she has ever been with. This trip was the best summer she has ever had and one that will remain close to her forever. Bravo! Thank you for this truly amazing teen tour experience for Laura. It was everything and more!
Rosey & Steve Oringer – Newtown, Pennsylvania - ATW Parents

This was the greatest summer of my life! The campers and counselors were amazing and I've made tons of friends. The memories will definitely last forever. I LOVE ATW!
Emily R. - Yonkers, New York

ATW has changed my life: I went from being the girl who never slept out and was always homesick. Now that it's over, I never want to go home! This tour allowed me to do things that I never thought possible. THANKS!
Erica S. - Plantation, Florida

My favorite part of the trip was white water rafting. It was challenging and even a little scary at times. But it was lots of fun and I was proud of myself afterwards.
Dean E. - Dix Hills, New York

The memories made on this AMAZING tour will definitely last a lifetime! I am so happy I chose to go with the best company, American Trails West!
Jessica L. - Rockville, Maryland

I wish there was one more week! I loved it! I loved all of my counselors. They made the trip so much fun!
Chase L. - Weston, Connecticuts

This summer was so much fun. I did amazing things with amazing people. At first we were all sad because we thought we wouldn't like camping…now we're all sad because we don't want to go home. I'm gonna miss it!
Rebecca G. - Dresher, Pennsylvania

This trip has been a memorable experience. The places I've been to and the people I've met are something that cannot be recreated anywhere.
Tim G. - Cliffside Park, New Jersey

This is my third teen tour and I can honestly say it was my best summer. I have become so close with every person and the staff has been so amazing. From the second I stepped onto the plane I felt comfortable.
Sarah K. - West Hempstead, New York

WOW! How do I ever sum up the best summer experience of my life? I had more laughs and fun in one week than I ever had. I will never forget the amazing friends and memories that I have brought home with me.
Alayna E. - Ponte Vedra Beach, Florida

Zach had a fantastic time this summer. He met a great group of kids and the staff was wonderful. Thank you for taking such good care of him. The memories of this trip will last a lifetime.
Alisa Cahn – New City, New York - ATW Parent

On the first day I really didn't believe people when they said this would be the best summer of my life. My counselors were some of the sweetest people I've ever met. The staff worked its hardest to give me the most memorable four weeks of my life. The friendships I've made and the places I've seen will never be forgotten.
Heather D. - Springfield, New Jersey

My favorite memory of this summer was not wanting to come home. I had the BEST time of my life! I will never forget anyone or anything!
Jenna P. - Suffern, New York

I love ATW because I got to see places that I've never seen before with new friends that I will remember forever. ATW gave me the best summer of my life!
Samantha M. - New York, New York

My daughter's experience was "more than we could have ever thought of". She had the time of her life and met a wonderful group of kids. Thank you for keeping my daughter happy and safe. I would (and will) highly recommend ATW to all.
Kathy Carlyle – West Nyack, New York - ATW Parent

I enjoyed meeting 44 new friends in a matter of three weeks and loved all the places we've been to.
Liz A. - Holland, Pennsylvania

This summer was absolutely amazing. I got to do so many things I would never have a chance to do , and met so many people from all over. If I could do it all over again, I would!
Arielle B. - Woodbury, New York

When I flew out on the first day to embark on my three week journey, I didn't know what to expect. However, I quickly made friends. Everyone I met was so friendly. I know I will keep in touch with them. I love ATW!
Gianna C. - Glencoe, Illinois

By far, this was the greatest summer of my life. Everyone was so friendly and they are such wonderful people. I'm going to remember every minute of it for the rest of my life!
Lawrence W. - Syosset, New York

My favorite part of the summer was meeting new people and being with them all the time.
Josh K. - Huntingdon Valley, Pennsylvania

If ever there is a parent hesitant to send their child on one of your tours, have them contact me. The experience that I had from the first contact with your camp, four years ago, and right down to the final arrival at the airport one week ago, has been nothing but a pleasure. Your camp has given so many children an experience that will be with them forever. Thank you for four wonderful years of fun, and happiness.
Barbara Bellafiore – Lake Worth, Florida - ATW Parent

This was by far the most amazing experience of my life. I will NEVER forget the awesome friends I made and the beautiful places I visited. Going on ATW was the best choice I ever made.
Ali M. - Northbrook, Illinois

ATW tours are awesome! You make so many great friends so quickly and right away
you feel like a big family.
Darby M. - Hamden, Connecticut

I was so happy that I signed up for this tour. These were the best three weeks of my summer. I made so many friends and every place we went was so much fun. ATW is the best!
Drew F. - New York, New York

I came with one friend and left with so many new friends that helped shape me as a person.
Jen W. - Glencoe, Illinois

I would never have imagined the impact new friends would have on me. I came here thinking I would come back the same, but truly, I came back as a new person.
Josh R. - Manalapan, New Jersey

I had an amazing time on ATW! I did so many things and met so many new people that I never would have had the opportunity to do otherwise. Everyone was so friendly and I will never forget this summer.
Alyssa M. - Needham, Massachusetts

I just heard from my little "Surfer Girl", who said, "This is the BEST thing I have ever done! It has to be our next family vacation!" She's having the best summer ever! Thanks again.
Francine Stone-Stricoff – Plainview, New York - ATW Parent

ATW is the tour that every kid deserves to be on. Friendly faces, great activities and amazing places aren't even the half of it!
Michael B. - Scarsdale, New York

This trip has been a life changing experience for me! I made many new close friends and plan to keep in touch with them. This summer has truly been an amazing one! I love ATW!
Brittany G. - Plantation, Florida

Usually relationships take a while to build, but I have never felt so close to so many people in this short amount of time. The memories I have made here will last a lifetime, and the new friends are amazing and unique. ATW has given me an incredible experience. I wish it never had to end.
Alexa P. - Springfield, New Jersey

I met the funny-est people ever! We will always be BFF's. I wish I could do it all over again 'cause I had so much fun! These are once-in-a-lifetime experiences that I loved and wouldn't trade anything for! I LOVE ATW!
Ali B. - Rockville, Maryland

I just wanted to say "Thank You". Thank you for being an incredibly organized, responsive and friendly group. Thank you for showing Sara an incredible intro to ATW, and thank you for making this a summer to remember. Sara is already talking about the Summer of 2009.
Lisa Sepulveda – Suffern, New York - ATW Parent

I feel like the trip just began yesterday and flew by…yet I feel like I've known everyone for all my life. ATW redefines family.
Zach F. - Scotch Plains, New Jersey

ATW was the best summer I ever had. All the people I met became my new family. I love them all.
Shana K. - Oxford, Connecticut

The summer I spent with ATW was the most exciting and meaningful summer I've ever experienced, The friendships I made and the memories I have will always stay with me as the best friendships and memories in the world.
Sarah K. - Scarsdale, New York

Meeting new friends and going to great theme parks is what I enjoyed most about my time on ATW.
Harris K. - Vienna, Virginia

Because of this summer, I feel like I have broken out of my shell and made everlasting friendships with a great group of kids.
Saba V. - Great Neck, New York

This summer at ATW was the best three weeks of my life! All the places were awesome and I made so many new friends here. Let's go ATW!
Mike B. - Trumbull, Connecticut

Camp was awesome! I saw new places, made new friends, and did new things. Everyone was really nice, especially the counselors.
Aaron W. - Mahwah, New Jersey

This summer was honestly the best I have ever had. Coming into this amazing experience we were all strangers that became a family.
Sammy W. - East Rockaway, New York

This summer I experienced new adventures while at the same time meeting new friends from all over!
Erica K. - Holland, Pennsylvania

Experiences you only have once in your life, spent with people who have become family.
Jesse K. - Livingston, New Jersey